Dr. Michael Sobocinski R.Psych.
We Live What We Teach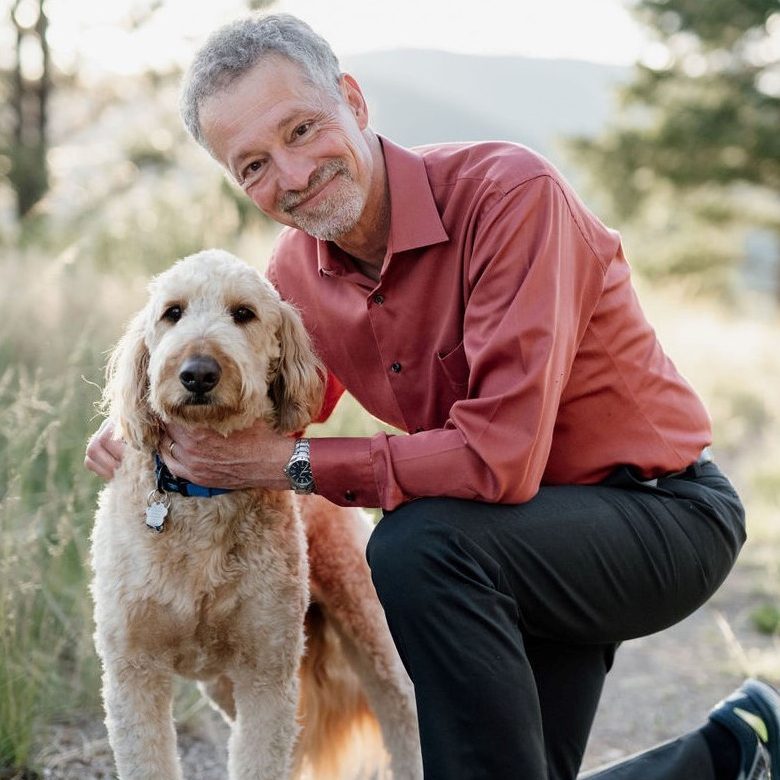 Dr. Michael Sobocinski, R.Psych.
Age group I work with:

15 and older.

Language(s)

English

Where do I offer my services:

Only Online 

When not at work I am:

Gardening, hanging out with my Goldendoodles, Bonnie and Clyde, or enjoying the outdoors. 

Ice cream flavor: Mango or coconut 

Favourite Ice Cream:

Mango or coconut

If I wasn't a therapist I would be a:

Either a marine biologist or running a greenhouse that specializes in wildflowers 

Book recommendation:

I and Thou, by Martin Buber 
Please note that Wise Mind Centre is not a vendor of ICBC and WorkSafe BC. Dr. Michael Sobocinski does not accept ICBC or WorkSafe BC referrals.
Dr. Sobocinski received his Doctorate in Counselling Psychology in 1992 from the University of Denver, an American Psychological Association accredited program. He is a registered Psychologist in British Columbia, a member of the Canadian Psychological Association, British Columbia Psychological Association, American Psychological Association, and the National Register of Health Service Psychologists.
Dr. Sobocinski has been helping people of all ages respond to life's challenges and grow in healthy ways for nearly thirty years in his role as a counselling psychologist. Early in his early career, he worked in multi-disciplinary treatment teams serving traumatized children, adolescents, young adults, and their families in residential psychiatric treatment and psychiatric inpatient settings.
In addition to extensive experience with children, youth, and families, Dr. Sobocinski has treated adult clients in community mental health and residential treatment programs for co-occurring substance use and mental health disorders, and in private practice.
His clients have overcome a wide range of difficulties, including anxiety, depression, trauma, self-esteem and self-worth challenges, relationship difficulties, attachment wounds, moral injury, compassion fatigue, grief and loss, life transitions, existential and spiritual issues, substance abuse, and sleep disorders.
Underlying most of the presenting issues in Dr. Sobocinski's clients is a history of complex relational trauma, and it is frequently the pain of such trauma that leads to substance abuse, self-injurious behaviors such as cutting, suicidality, binge and purge eating, chronic anxiety and depression, and relational difficulties. When we recognize the pervasive nature of trauma in our society, many of the frequently confusing and difficult to treat conditions that bring people into therapy make more sense and respond to a therapeutic approach that helps to regulate a traumatized nervous system and bring a coherence to experience that is frequently chaotic and overwhelming. His clients have taught him much about the resilience of the human spirit, and how even the most traumatized individuals may heal and grow within a physically and psychologically safe environment.
Dr. Sobocinski also understands that a person's most apparently self-defeating behaviors are an attempt at meeting basic human needs for acceptance, connection, influence, and individuality, and that once he understands the inherent wisdom behind these behaviors, his clients challenge themselves to find other, healthier behaviors to meet their needs.
Growth following trauma also requires a sense of purpose and meaning in life, and sustaining connections within a larger community where we can contribute according to our strengths, passions, and interests. For each of us, we need a compelling reason to swing our feet out of bed each morning, a reason that answers the question "What matters to you?"
Throughout his career Dr. Sobocinski has emphasized holistic care that integrates the biological, emotional, cognitive, social, cultural, and spiritual aspects of my clients. Dr. Sobocinski always strives to be attuned to the changing needs and goals of his clients, and takes a collaborative, "walking-alongside" approach where each client's motivations and goals dictate the focus of counselling. In many ways, he understands the work of therapy as helping his clients increase their capability to "live, work and love."
Dr. Sobocinski works from within a therapeutic model that draws from cognitive, cognitive-behavioral, interpersonal, and trauma-informed perspectives, and includes mindfulness, behavioral strategies, and the principles of Motivational Interviewing and the Stages of Change models. He will ask for and incorporate feedback from his clients on whether counselling is addressing goals that are important, whether his clients feel heard, respected, and understood in counselling, and whether his approach works for his clients. Dr. Sobocinski adjusts what he does according to the feedback that he receives.
Fundamentally, we are meaning-making beings, and oftentimes the work of therapy involves re-discovering or creating meaning from experiences that have defied attempts at weaving them into our personal narratives. We are also social creatures, our brains wired from birth to seek out safe and sustaining relationships. All too often, people who experience mental illness and substance use disorders find themselves out of community, alone and isolated, and to be effective counselling must help re-engage people in meaningful roles in their community.
While Dr. Sobocinski has considerable knowledge and experience with facilitating complex behavior change, his clients are the experts on their own life story, and he sees himself as a fellow traveler on their journey of change and growth. This collaborative approach results in an individualized approach that focuses on how interpretations of situations contribute to anxiety for some clients, while for others their lack of selfcare and ability to regulate themselves emotionally when stressed may be a more prominent clinical focus.
Our individual development is strongly influenced by our social, cultural, historical, and family context. Dr. Sobocinski's education and training emphasized the importance of understanding normal human growth. In many respects he views counselling as a deliberate attempt to nurture the processes underlying human development, especially those of forming attachments to others. Our relationships with others are critical to achieving mental health and wellbeing, just as they often contribute to the onset of mental health problems. Within this overall context Dr. Sobocinski works with clients to establish healthy and fulfilling relationships that are consistent with their values.
Having move south from Anchorage, Alaska in search of adventure and milder winters, Dr. Sobocinski enjoys touring British Columbia in his 1988 Volkswagen Westfalia ("Honu," Hawaiian for Green Sea Turtle) with his wife, June, and his spirit animal Clyde, a bouncy, fun-loving Goldendoodle whose new best friend is the next person he meets. Dr. Sobocinski's favorite activity is snorkeling a coral reef and being one with the marine life. He is also a gardener, enjoys hiking, running, and biking, and occasionally taking nature pictures.
The curious paradox is that when I accept myself just as I am, then I can change
To be beautiful means to be yourself. You don't need to be accepted by others. You need to accept yourself
Getting over a painful experience is much like crossing monkey bars. You have to let go at some point in order to move forward